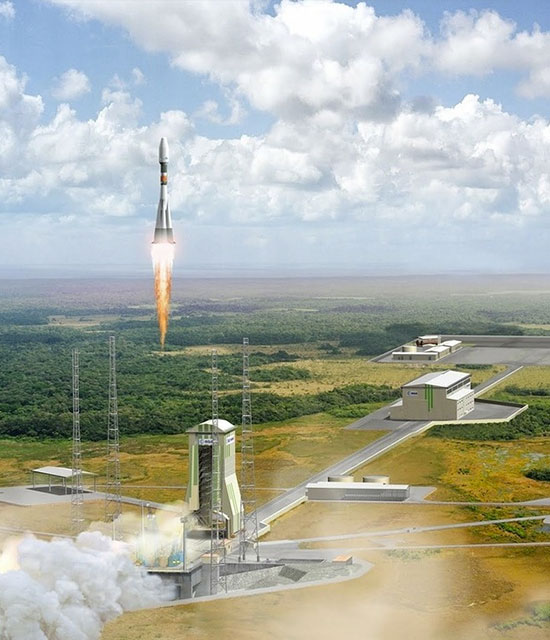 One of the key international projects for Glavkosmos is Soyuz at the Guiana Space Center.
The Russian-French cooperation began in May 2002 when Rosaviakosmos, the French company Arianespace, and the Russian-French joint-stock company Starsem signed an agreement on the creation of Soyuz Launch System in Kourou space center (French Guiana, South America, Department of France).
The major partners from Russia in this project are ROSCOSMOS State Space Corporation and its subsidiary Glavkosmos, JSC SRC Progress, NPO Lavochkin, and TsENKI.
About fifteen other Russian space companies are also in the partnership.
For Soyuz at the Guiana Space Center Project, Glavkosmos acts as a prime contract integrator for all the Russian companies involved and coordinates interaction with Arianespace, the Guiana Space Center operator, at all phases.
Under this cooperation, at the initial phase of the project, Russian space companies (enterprises of the Russian Cooperation Group) developed the initial data to design facilities of the Guiana Space Center and technical systems of the Soyuz Launch Complex. They also designed, produced, delivered and assembled the ground support equipment for the Soyuz Launch Complex.
Currently the main tasks of the Russian space companies per this project are the following: adaptation of Soyuz-ST launch vehicle, Fregat upper stage, and ground support equipment to specific missions; production and delivery of the Launcher with the Upper Stage and propellants; LV pre-launch processing; and operation of the ground support equipment of the Soyuz Launch Complex.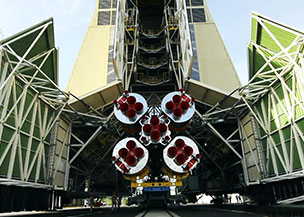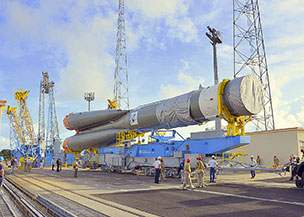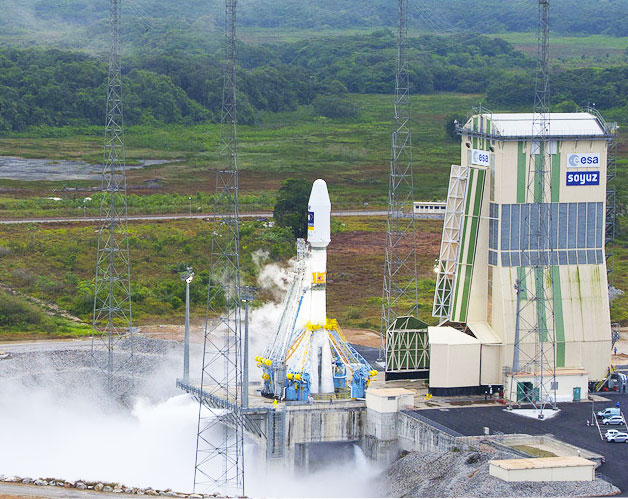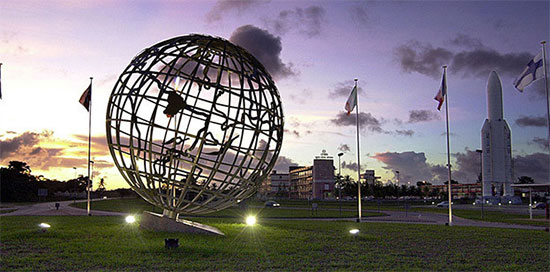 Soyuz-ST launchers for the European space center in French Guiana are the modified enhanced Soyuz-2 launchers for payload injection into the high-energy orbits (geostationary transfer and geostationary orbits).
The very first Soyuz-ST launch from the Guiana Space Center was performed in October 2011.
The Soyuz-ST (with the Fregat upper stage) launches from the Guiana space center
| Launch campaign | Date/Time (msk) | Mission under the contract | Launch vehicle | Upper stage | Spacecraft |
| --- | --- | --- | --- | --- | --- |
| VS01 | 21.10.2011, 14:30:26 | 8 | Soyuz ST-B | Fregat-MT | Galileo IOV M1 (2 SC) |
| VS02 | 17.12.2011, 06:03:48 | 2 | Soyuz ST-A | Fregat | Pléiades-HR1, Elsa (4 SC), CCOT |
| VS03 | 12.10.2012, 22:15:01 | 9 | Soyuz ST-B | Fregat-MT | Galileo-IOV M2 (2 SC) |
| VS04 | 02.12.2012, 06:02:51 | 1 | Soyuz ST-A | Fregat | Pléiades-HR2 |
| VS05 | 25.06.2013, 23:27:03 | 11 | Soyuz ST-B | Fregat-MT | O3b-F1 (4 SC) |
| VS06 | 19.12.2013, 13:12:19 | 12 | Soyuz ST-B | Fregat-MT | Gaia |
| VS07 | 04.04.2014, 01:02:26 | 4 | Soyuz ST-A | Fregat-M | Sentinel-1A |
| VS08 | 10.07.2014, 22:55:56 | 14 | Soyuz ST-B | Fregat-MT | O3b-F2 (4 SC) |
| VS09 | 22.08.2014, 16:27:11 | 13 | Soyuz ST-B | Fregat-MT | Galileo FOC-F1 (2 SC) |
| VS10 | 18.12.2014, 21:37:00 | 15 | Soyuz ST-B | Fregat-MT | O3b-F3 (4 SC) |
| VS11 | 27.03.2015, 18:46:18 | 16 | Soyuz ST-B | Fregat-MT | Galileo FOC-F2 (2 SC) |
| VS12 | 11.09.2015, 05:08:10 | 17 | Soyuz ST-B | Fregat-MT | Galileo FOC-F3 (2 SC) |
| VS13 | 17.12.2015, 14:51:56 | 18 | Soyuz ST-B | Fregat-MT | Galileo FOC-F4 (2 SC) |
| VS14 | 26.04.2016, 00:02:13 | 22 | Soyuz ST-A | Fregat-M | Sentinel-1B, ÊÀ FYS (3 SC) |
| VS15 | 24.05.2016, 11:48:43 | 19 | Soyuz ST-B | Fregat-MT | Galileo FOC-F5 (2 SC) |
| VS16 | 28.01.2017, 04:03:34 | 20 | Soyuz ST-B | Fregat-MT | Hispasat Ag-1 |
| VS17 | 18.05.2018, 02:03:34 | 20 | Soyuz ÑÒ-A | Fregat-M | SES-15 |
| VS18 | 09.03.2017, 01:03:34 | 21 | Soyuz ST-B | Fregat-MT | 03B-F4 |
| VS19 | 07.11.2018, 03:47 | 27 | Soyuz ST-B | Fregat-M | "MetOp-Ñ" |
| VS20 | 19.12.2018, 19:37:14 | 26 | Soyuz ST-A | Fregat-M | CSO-1 |
| VS21 | 28.02.2019, 00:37:00 | 29 | Soyuz-ST-B | Fregat-M | OneWeb |
| VS22 | 04.04.2019, 20:03 | 33 | Soyuz-ST-B | Fregat-MT | O3b |
| VS23 | 18.12.2019, 11:54:20 | 25 | Soyuz-ST-A | Fregat-M | Cosmo-SG,Cheops, OPS-SAT/EyeSat/ANGELS |
| VS24 | 02.12.2020, 04:33:28 | 32 | Soyuz-ST-A | Fregat-M | FalconEye2 |
| VS25 | 29.12.2020, 19:42:07 | 24 | Soyuz-ST-A | Fregat-M | CSO-2 |
| VS26 | 05.12.2021, 03:19 | 28 | Soyuz-ST-B | Fregat-MT | Galileo FOC-M9 (23-24) |
| VS27 | 10.02.2022, 21:09:37 | 34 | Soyuz-ST-B | Fregat-M | OneWeb (34 SC) |