First in 2020 OneWeb launch under the Glavkosmos contract with Arianespace was a success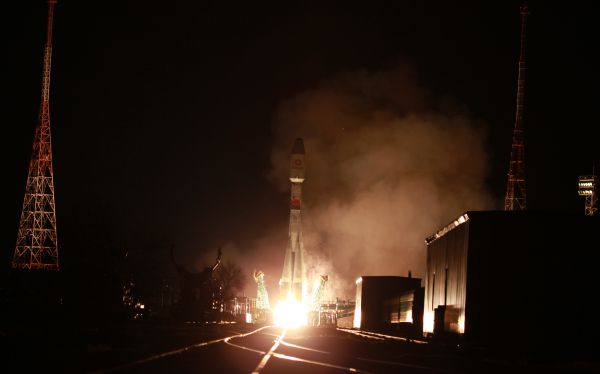 BAIKONUR, February 7 – A successful launch of 34 OneWeb satellites aboard the Soyuz-2.1 b launch vehicle with the Fregat upper stage was executed on Friday from the Baikonur Cosmodrome. The launch was carried out under the contract between Glavkosmos (part of the State Space Corporation Roscosmos) and Arianespace in close cooperation with other Roscosmos enterprises – Progress Space Rocket Center, Lavochkin Association, and TsENKI.
"I congratulate everyone on the successful launch. I hope that our foreign customers have appreciated the level of skills of the Russian specialists involved," said Dmitry Loskutov, Glavkosmos Director General. "Glavkosmos is satisfied with the launch and confirms its focus on further fruitful cooperation."
Dmitry Rogozin, Director General of Roscosmos, and the CEOs of Glavkosmos, Arianespace, Starsem and OneWeb observed the launch event.
The Fregat upper stage separation from the third stage was nominal. Within 3.5 hours, in accordance with the flight timeline, the satellites were separated from the upper stage nine times and put into their orbits.
The first six OneWeb satellites were launched from the spaceport in Kourou by Soyuz-ST on February 28, 2019 (Feb. 27, 18:37 local Guiana time). In total, the company intends to deploy about 600 satellites in LEO and begin their commercial use in 2020. By 2021, OneWeb intends to provide 24-hour communication coverage of the Earth.
OneWeb low Earth orbit satellites are designed to provide consumers on the ground with the high-speed Internet directly through satellite communications. The orbital constellation will consist of 18 planes with 36 satellites in each. The satellites are planned for launches from Baikonur, Vostochny, and from the Guiana Space Center.
***
Glavkosmos, JSC is a subsidiary of the State Space Corporation Roscosmos. The main task of the company is to promote the achievements of the Russian rocket and space industry to world markets and manage complex international projects. For more than thirty years, the company has successfully fulfilled over 120 international contracts, including the launch of more than 140 spacecraft as a secondary payload.
ROSCOSMOS is a State Corporation established in August 2015 to carry out a comprehensive reform of the Russian rocket and space industry. ROSCOSMOS ensures the implementation of the state policy in space activities and its normative and legal regulations, as well as places orders for the design, production and supply of space equipment and space infrastructure. Its functions also include the development of international space cooperation, as well as the establishing of environment for application of space domain achievements for the social and economic evolution in Russia.