Glavkosmos and ISRO discussed prospects for cooperation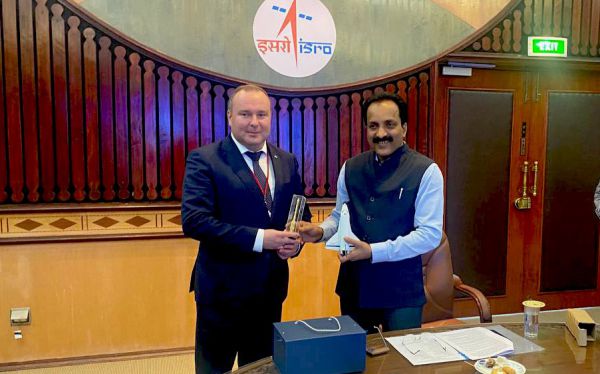 MOSCOW, September 9. – The Glavkosmos delegation (the company is part of Roscosmos) held a working meeting with the leadership of the Indian Space Research Organization (ISRO) at the Bengaluru Space Expo-2022, announced Dmitry Loskutov, Director General director of the company, following the results of the Glavkosmos work at the exhibition.
"At the meeting on September 6, the delegation of Glavkosmos and the leadership of ISRO headed by ISRO Chairman S. Somanath discussed prospects for the development and deepening of cooperation in projects of mutual interest," he informed.
The CEO of Glavkosmos recognized the excellent organization of the exhibition and emphasized the interest of foreign visitors in the Russian exposition. "The Glavkosmos exhibition booth at Bengaluru Space Expo-2022, where we presented the capabilities of the Russian space industry, aroused keen interest among both space industry professionals and visitors interested in space cooperation between countries," Loskutov said and noted that the Indian officials and ISRO leaders visited the Glavkosmos booth on the opening day of the exhibition on September 5. "We briefed them on the exposition and on the Glavkosmos activities in promotion of the Russian space industry products and services to global markets," he said.
Glavkosmos is currently cooperating with ISRO within the Indian national human spaceflight program Gaganyaan. The company fulfilled contracts for the training of four Indian Air Force pilots to fly into space at the Gagarin Cosmonaut Training Center and the Institute of Biomedical Problems of the Russian Academy of Sciences. The systems and equipment for the Gaganyaan crewed space transportation spacecraft and individual equipment for future Indian cosmonauts (i.e. spacesuits, seats and coach liners produced by the Russian Scientific and Production Enterprise Zvezda) were supplied to India under the Glavkosmos contracts.
Glavkosmos took part in the 7th Bangalore Space Exhibition, which was held from 5 to 7 September at the Bangalore International Exhibition Center (Bangalore, India).
***
Glavkosmos, JSC is a subsidiary of the State Space Corporation Roscosmos. The main task of the company is to promote the achievements of the Russian rocket and space industry to world markets and to manage complex international projects. Throughout its history, the company has successfully fulfilled over 140 international contracts, including the launch of more than 180 spacecraft as a secondary payload.
Since May 2021, Glavkosmos has been the official operator of Roscosmos trademarks.
ROSCOSMOS is a State Corporation established in August 2015 to carry out a comprehensive reform of the Russian rocket and space industry. ROSCOSMOS ensures the implementation of the state policy in space activities and its normative and legal regulations, as well as places orders for the design, production and supply of space equipment and space infrastructure. ROSCOSMOS is also vested with authority to develop international cooperation in space and establish the appropriate environment for applying achievements in space domain for the social and economic development in Russia.
2023
2022
2021
2020
2019
2018
2017