Glavkosmos CEO: implementation of large space projects requires international efforts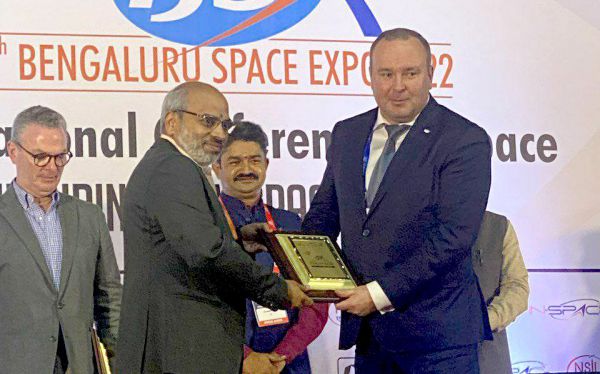 MOSCOW, September 7. – Dmitry Loskutov, Director General of Glavkosmos (part of Roscosmos) took part in a panel discussion named 'International cooperation in the space sphere - on the way to sustainable development: ways and opportunities'as part of his agenda for the final day of the Bengaluru Space Expo-2022. He said that the possibility of multilateral scientific cooperation in challenging space projects continues to be of crucial importance today.
"There is an acute need for a joint multilateral effort in implementing large-scale international space projects. Moreover, science must not fall victim to any political clashes whatsoever," he said. Loskutov recalled that a number of multilateral large-scale scientific space projects, ExoMars, for example, suffered due to the current political situation. The termination of work on the ExoMars project was the result of a unilateral decision by the European Space Agency. The scientific community of Russia, Europe, and the world as a whole loses a lot from this unjustified decision.
'Today the most challenging space exploration projects can hardly be carried out by a single nation. There are truly global challenges that require concerted action, such as asteroid threat or space junk," he noted.
According to Mr. Loskutov, Government as an enabler for the New Space is needed and will be needed in the future even more. "There is no private space company that can manage to survive without a governmental support," he said. "There is a need for predictable governmental policies and for less administrative barriers, for clear procedures and regulations," he added.
Glavkosmos is taking part in the 7th Bangalore Space Exhibition, which takes place from 5 to 7 September at the Bangalore International Exhibition Center (Bangalore, India).
***
Glavkosmos, JSC is a subsidiary of the State Space Corporation Roscosmos. The main task of the company is to promote the achievements of the Russian rocket and space industry to world markets and to manage complex international projects. Throughout its history, the company has successfully fulfilled over 140 international contracts, including the launch of more than 180 spacecraft as a secondary payload.
Since May 2021, Glavkosmos has been the official operator of Roscosmos trademarks.
ROSCOSMOS is a State Corporation established in August 2015 to carry out a comprehensive reform of the Russian rocket and space industry. ROSCOSMOS ensures the implementation of the state policy in space activities and its normative and legal regulations, as well as places orders for the design, production and supply of space equipment and space infrastructure. ROSCOSMOS is also vested with authority to develop international cooperation in space and establish the appropriate environment for applying achievements in space domain for the social and economic development in Russia.
2023
2022
2021
2020
2019
2018
2017