Glavkosmos discussed a promising project with Indian partners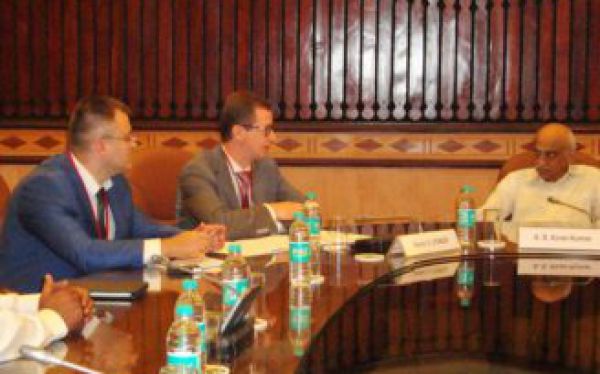 During a business trip to India, a Glavkosmos delegation led by Director General Denis Lyskov had a number of meetings with the top managers and experts of the Indian space enterprises in Bangalore (Bengaluru).
At the meeting with the Head of the Indian Space Research Organisation (ISRO) Mr. Kiran Kumar, Denis Lyskov told about Glavkosmos activities and ongoing projects. He also presented a new company GK Launch Services to the Indian colleagues. The parties exchanged views and discussed the options for cooperation within the framework of the existing Memorandum between Russia and India.
A joint working group consisting of the experts from Glavkosmos, ISS-Reshetnev, and Experimental Design Bureau FAKEL visited the ISRO Satellite Centre where they met with Dr. M. Annadurai, the Director of the Centre.
The discussion with the Indian counterparts was focused on the technical issues regarding the Russian bid on a fully-electrical propulsion system equipped with stationary plasma thrusters for the future geostationary communication satellites of ISRO. The bid had been drafted specially for the ISRO Satellite Centre and issued for the initial bidding phase.
Glavkosmos is a subsidiary of ROSCOSMOS State Space Corporation. The key objectives of the company are the promotion of Russian space industry achievements in the world market and management of challenging space projects. For over 30 years of work, Gkavkosmos has performed upwards of 120 international contracts.
GK Launch Services is a contractor and operator of the commercial services for satellite launches on Soyuz-2 carrier rockets from the Russian spaceports. Along with that, the company is taking efforts to bring the Dnepr launch vehicle back to the commercial market.
The Indian Space Research Organisation (ISRO) is the national space agency under the Department of Space of the Government of India.