Glavkosmos holds talks with the delegation of the Government of Mali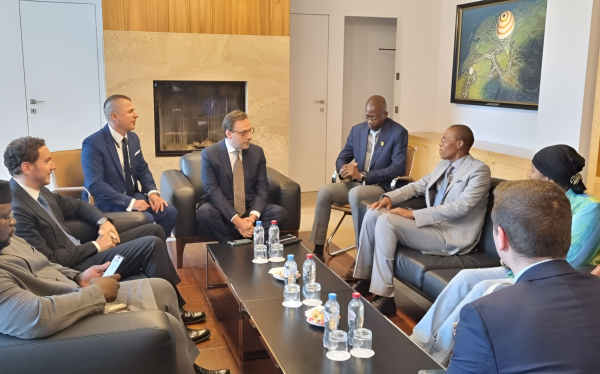 MOSCOW, October 17. – The delegation of the Republic of Mali, headed by the Minister of Economy and Finance of this West African country, Alousséni Sanou, visited Glavkosmos JSC (part of Roscosmos). Issues of cooperation in the space area were discussed during the talks.
Ilya Tarasenko, Director General of Glavkosmos, presented the capacities of Russian space industry enterprises to the Malian guests. Particular emphasis was given to the production of spacecraft for various purposes and the use of the received satellite data, the provision of launch services, the developing of national space projects and the training of professional personnel.
On the Russian side, representatives of the State Space Corporation Roscosmos and the management of Glavkosmos participated in the negotiations, on the Malian side – heads of the Ministries of Economy and Finance, Industry and Trade, Transport and Infrastructure, as well as some other official agencies of this country.
Following the results of the meeting, the parties agreed to continue the contacts and further develop cooperation in the space sphere.
***
Glavkosmos, JSC is a subsidiary of the State Space Corporation Roscosmos. The main task of the company is to promote the achievements of the Russian rocket and space industry to world markets and to manage complex international projects. Throughout its history, the company has successfully fulfilled over 140 international contracts, including the launch of more than 200 spacecraft as a secondary payload.
Since May 2021, Glavkosmos has been the official operator of Roscosmos trademarks.
ROSCOSMOS is a State Corporation established in August 2015 to carry out a comprehensive reform of the Russian rocket and space industry. ROSCOSMOS ensures the implementation of the state policy in space activities and its normative and legal regulations, as well as places orders for the design, production and supply of space equipment and space infrastructure. ROSCOSMOS is also vested with authority to develop international cooperation in space and establish the appropriate environment for applying achievements in space domain for the social and economic development in Russia.
2023
2022
2021
2020
2019
2018
2017