Glavkosmos presented the potential of the Russian space industry at the Dubai Airshow-2023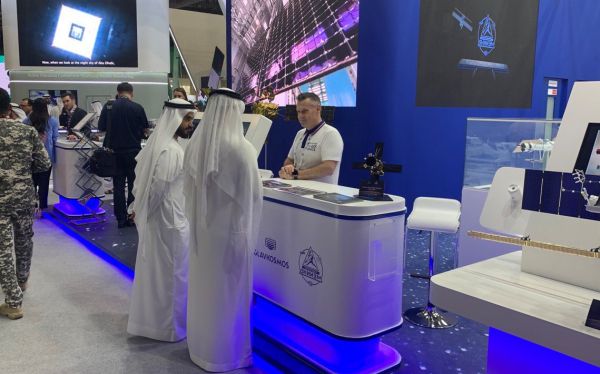 MOSCOW, November 17. – Glavkosmos JSC (part of Roscosmos) from November 13 to 17 took part in the international aerospace show Dubai Airshow-2023 (Dubai, UAE). At the exhibition, the company presented to the event's participants and visitors the potential of Russian space enterprises using modern visualization technologies at the joint exhibition of the Roscosmos enterprises.
Moreover, the company's managers informed the participants and guests of the Dubai Airshow-2023 about the company's activities; the management of Glavkosmos also used the aerospace show's venue to hold bilateral meetings and negotiations with foreign partners and prospective customers.
"We are grateful to the Emirati side for the excellent organization of the aerospace show," said Glavkosmos CEO Ilya Tarasenko. "We expect that the results of our specialists' work during the exhibition, as well as the results of meetings with representatives of foreign enterprises, will give a new positive impetus to the activities of Glavkosmos and enterprises of the Russian space industry as a whole."
The Dubai Airshow-2023 International Aerospace Exhibition was held from November 13 to 17 at the Dubai World Central in Dubai, UAE. The exhibition takes place once every two years and is one of the largest world events in the area of aviation and space.
***
Glavkosmos, JSC is a subsidiary of the State Space Corporation Roscosmos. The main task of the company is to promote the achievements of the Russian rocket and space industry to world markets and to manage complex international projects. Throughout its history, the company has successfully fulfilled over 140 international contracts, including the launch of more than 200 spacecraft as a secondary payload.
Since May 2021, Glavkosmos has been the official operator of Roscosmos trademarks.
ROSCOSMOS is a State Corporation established in August 2015 to carry out a comprehensive reform of the Russian rocket and space industry. ROSCOSMOS ensures the implementation of the state policy in space activities and its normative and legal regulations, as well as places orders for the design, production and supply of space equipment and space infrastructure. ROSCOSMOS is also vested with authority to develop international cooperation in space and establish the appropriate environment for applying achievements in space domain for the social and economic development in Russia.
2023
2022
2021
2020
2019
2018
2017