Glavkosmos takes part in the XI St. Petersburg International Legal Forum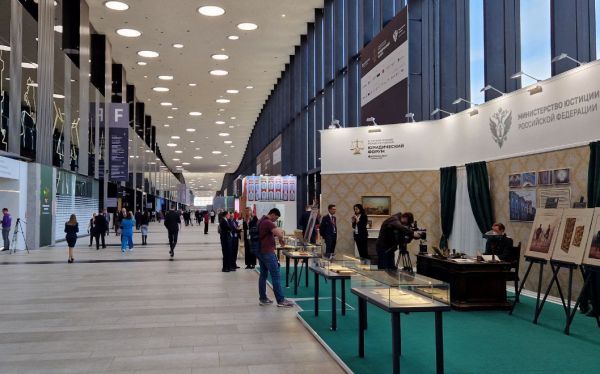 MOSCOW, May 11. – Glavkosmos JSC (part of Roscosmos) participates in the XI St. Petersburg International Legal Forum (SPILF). Participation in the forum will allow the company's management to learn the latest trends and approaches in the sphere of law in international and foreign economic activity. Besides, the forum is an opportunity for Glavkosmos to convey to the target audience the company's initiatives on the improvement of legal tools for space activities, to offer practical guidelines on the adaptation of the Russian legislation to international legal realities.
Accordingly, on May 13, Director General of Glavkosmos Dmitry Loskutov is scheduled to participate in the panel discussion "Space and the Space Economy in the Context of Sustainable Development of Russia" at the SPILF. The company's CEO will talk about international legal approaches to space activities and outline the initiatives necessary, in opinion of Glavkosmos as a foreign economic activity actor, to uphold the legal independence of Russian companies in the implementation of national and commercial space activities worldwide.
The XI St. Petersburg International Legal Forum is being held in the northern capital from May 11 to 13 at the Expoforum Convention and Exhibition Center.
***
Glavkosmos, JSC is a subsidiary of the State Space Corporation Roscosmos. The main task of the company is to promote the achievements of the Russian rocket and space industry to world markets and to manage complex international projects. Throughout its history, the company has successfully fulfilled over 140 international contracts, including the launch of more than 180 spacecraft as a secondary payload.
Since May 2021, Glavkosmos has been the official operator of Roscosmos trademarks.
ROSCOSMOS is a State Corporation established in August 2015 to carry out a comprehensive reform of the Russian rocket and space industry. ROSCOSMOS ensures the implementation of the state policy in space activities and its normative and legal regulations, as well as places orders for the design, production and supply of space equipment and space infrastructure. ROSCOSMOS is also vested with authority to develop international cooperation in space and establish the appropriate environment for applying achievements in space domain for the social and economic development in Russia.
2023
2022
2021
2020
2019
2018
2017