Russia and China discussed space cooperation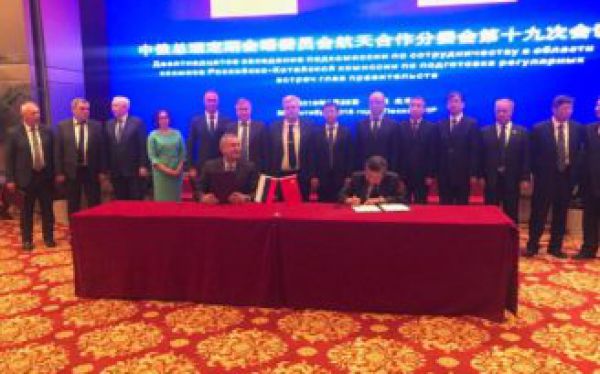 On 28 September 2018, the 19th meeting of the Space Cooperation Subcommittee of the Russian-Chinese Committee for Preparing Regular Meetings between Heads of Government took place in Beijing. Preparatory meetings of thematic subgroups were held on 26-27 September 2018.
The meeting of the Subcommittee was held by the head of the Russian delegation, the co-chairman of the Russian side, Roscosmos Director General Dmitry Rogozin and the head of the Chinese delegation, the co-chairman of the Subcommittee from China, Administrator of the Chinese National Space Administration (CNCA) Zhang Kejian.
The delegation of Glavkosmos took part in the events.
During the Subcommittee's meeting, reports were presented on the progress of space activities of the two countries since the 18th meeting of the Subcommittee (held in Moscow, 14 September2017), as well as the progress in implementing the Roscosmos-CNCA Space Cooperation Development Program for 2018-2022 and large-scale interaction projects were discussed. In addition, new areas of space collaboration were reviewed, and new cooperation topics were included in the current Program, where Glavkosmos is a co-executor.
The outcome was documented in the minutes of the 19th Subcommittee's meeting. The next 20th anniversary meeting of the Subcommittee will be hosted in Moscow in 2019.