SOYUZ-ST-B LV PROCESSING BEGAN IN GUIANA SPACE CENTER
On February 16, 2018, standalone check-outs of the Soyuz-ST-B LV Control System began in the Guiana Space Center (Kourou, French Guiana) as part of O3b launch campaign which is to result in orbital injection of the four European telecommunication satellites. The day before, standalone check-outs of the LV measurement systems (telemetry) were carried out and the European instrumentation set of flight safety was integrated into the launcher. Along with that, Fregat-MT Upper Stage is being fueled, the Launch Complex is being prepared to accept the launch vehicle and the space head module. As agreed with the customer, the launch of the Soyuz-ST-B from Kourou is scheduled for March 6, 2018.
The O3b satellites are designed to create a new European medium-orbit satellite communications system. The SC are to provide connectivity and high-speed Internet access to residents of remote and developing regions where fiber cables cannot reach – a total of about 3 billion people.
Soyuz-ST-B carrier rockets were used in three launch missions for orbiting O3b satellites from the Guiana Space Center – in June 2013, in July and December 2014. Russian launch vehicles delivered four spacecraft in each launch to their target orbits.
The Guiana Space Center is a European cosmodrome located near the city of Kourou in French Guiana (department of France in South America). Its near-equator location provides a 15% payload advantage as compared to the eastward launches from the US spaceport at Cape Canaveral, and 40% – to the launches from Baikonur. Since the beginning of the 1970s, the GSC has been used for launching spacecraft by the carrier rockets of the Arian family. The space center is used in the interests of joint European space programs.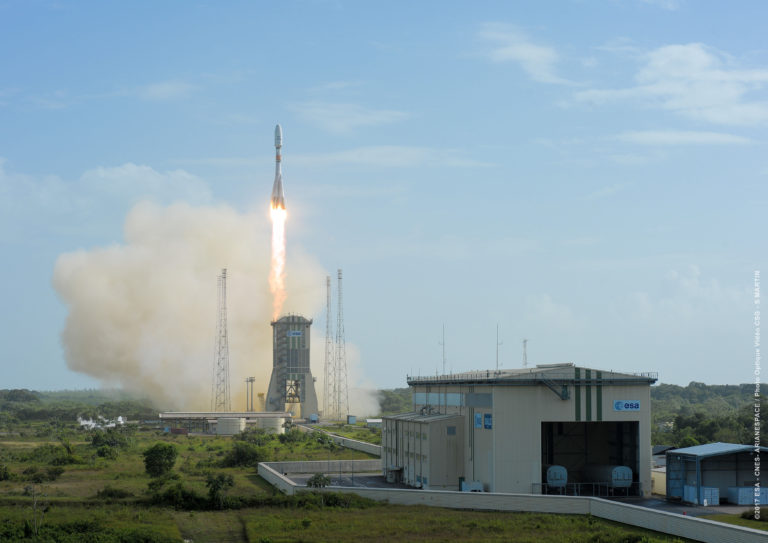 The Russian-European program "Soyuz in the Guiana Space Center" began in 2003 when a decision was taken at the governmental level to launch Soyuz carrier rockets from the European space center in French Guiana. Then, a number of intergovernmental agreements were signed, which laid the legal basis for signing contracts to build the ground infrastructure for the Soyuz Launch Complex, for manufacturing and shipment of Soyuz-ST LVs and the Fregat upper stages to the Guiana Space Center. In 2005, construction of the Soyuz-ST launch complex began, and in May 2011, an official ceremony was held to handover the launch complex to the European Space Agency and space center operator, Arianespace. The first launch of Soyuz-ST was performed in October 2011. Every year 2-3 launches are carried out both in the interests of ESA and in the interests of commercial companies.
Glavkosmos is the main contract integrator of the Russian industrial team under the Soyuz in the Guiana Space Center Program, providing interaction with Arianespace.