The first batch of OneWeb satellites arrived at Baikonur to prepare for launch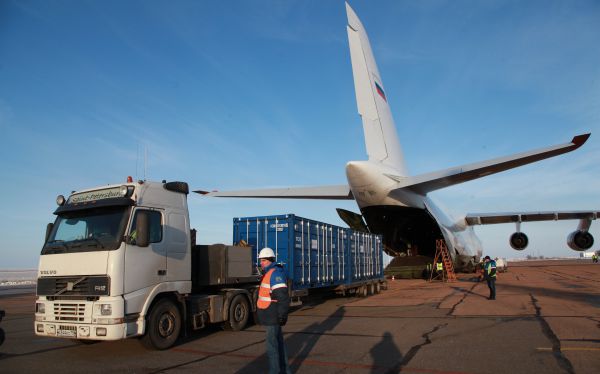 MOSCOW, December 16. – The first batch of satellites of the British company OneWeb arrived on Monday on the An-124-100 aircraft at the Baikonur Cosmodrome. The spacecraft will be prepared at the spaceport for launch, scheduled for January 30, 2020.
Glavkosmos JSC (a subsidiary of the state Corporation Roscosmos) ensures the implementation of the works on launches of the OneWeb spacecraft using the Soyuz launch vehicles within the framework of contracts with the French company Arianespace.
The first six OneWeb satellites were launched from the spaceport in Kourou on Soyuz-ST on February 28, 2019. In total, the company intends to deploy about 600 satellites in LEO and begin their commercial use in 2020. By 2021, OneWeb intends to provide 24-hour communication coverage of the Earth.
OneWeb low Earth orbit satellites are designed to provide consumers on the ground with the high-speed Internet directly through satellite communications. The orbital constellation will consist of 18 planes with 36 satellites in each. The satellites are planned for launches from Baikonur, Vostochny, and from the Guiana Space Center (GSC).
***
Glavkosmos, JSC is a subsidiary of the State Space Corporation Roscosmos. The main task of the company is to promote the achievements of the Russian rocket and space industry to world markets and manage complex international projects. For more than thirty years, the company has successfully fulfilled over 120 international contracts, including the launch of more than 140 spacecraft as a secondary payload.