Interfax-Military News Agency: Dmitry Loskutov: Coronavirus safety measures will not affect the fulfillment of Glavkosmos contracts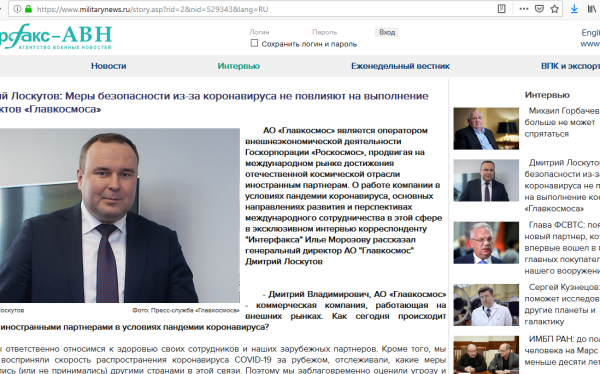 Dmitry Loskutov, Director General of Glavkosmos, spoke about the company's work in the context of the coronavirus pandemic, the main areas of development and prospects for international cooperation there in an exclusive interview with Interfax correspondent Ilya Morozov.
- Glavkosmos is a commercial company operating in foreign markets. How is work with foreign partners organized today in the context of the coronavirus pandemic?
- We take care of the health of our employees and our foreign partners. That is why we took seriously the COVID-19 spread rate abroad and monitored the measures taken (or not taken) by other countries in this regard. Therefore, we assessed the threat in advance and prepared for various scenarios in our country. I believe we have prepared well enough to potential difficulties in our work.
From March 19, due to the risk of the coronavirus spread, Glavkosmos has transferred the main part of its employees to remote work while maintaining their functional duties and wages. The company's management continues to work in the same mode, although it is possible to work remotely for the top management – our technical specialists have managed to provide such an opportunity for all employees of the company.
I would like to stress out that the measures taken will not affect the continuous business life of the company and the fulfillment of Glavkosmos contractual obligations.
Earlier we introduced such priority measures as minimizing personal contacts and meetings, the company switched to conference calls. Automatic dispensers with sanitizer were installed at the Glavkosmos office entrance for the convenience of our employees and visitors.
In addition, we introduced a body temperature control for the employees before they started their work. Those with signs of cold were immediately sent for medical assistance. Lockdown for the employees returning from business trips from abroad was also introduced. In addition, we cancelled all business trips, unless critical need to ensure launch campaigns under the current contracts of Glavkosmos.
I should note with satisfaction that all our employees, without exception, have treated this with understanding and responsibility - I am very grateful to all of them for that. Now everyone is working remotely and quite effectively.
- Last year, in an interview with Interfax, you said that you were actively working on attracting new participants to the ISS project. How is this work progressing? Does anyone plan to create their own modules at the station? Will Russian companies be involved in this work?
- Any actions associated with the ISS require mandatory coordination with all the participants of this major international space project, so this work is not as fast and not at all as simple as it may seem at first glance. Yes, we acknowledge the growing interest of the "emerging space powers" in potential participation in the further station operation. We are discussing with our foreign partners their potential participation in the ISS project. However, when discussing their participation, we do not limit ourselves only to that - our prospective customers are always offered the full range of services in human spaceflights: from training their cosmonauts to helping develop their own human spaceflight programs, from conducting scientific experiments onboard the ISS to helping implement the results of such experiments in science and industry of their country.
- In the middle of March, you said Glavkosmos and the American company International Launch Services, Inc. (ILS) were to develop commercial manned programs using the Russian Soyuz spacecraft. Are there any candidates already to become space "tourists"? When can the first flight take place?
- That's right; one of the new tasks for ILS will be to promote commercial manned cosmonautics in close cooperation with Glavkosmos. Our part is to ensure interaction with Russian cooperating enterprises that will train commercial space travelers for the spaceflight.
Our country has a unique experience in training people for spaceflights. Therefore, the management of Roscosmos has authorized us, as their operator of international business, to resume the program of commercial human spaceflights.
It would be quite wrong to say that since the news release in March, to which you refer, Glavkosmos has observed the line of people willing to pay for a spaceflight. An insolvent demand for a spaceflight has always exceeded the offer. Such a flight is very expensive for a simple passenger, not even a pilot cosmonaut or a research cosmonaut. Commercial travel to space is designed for people who can afford to pay for it; it is a very special and exclusive service.
At the same time, it should be understood that the contribution of this group of people able to pay their way to the stars today, may reduce the cost of manned spaceflight and make it more available tomorrow, since these funds immediately flow into the manned spaceflight development of the Russian rocket and space industry.
- Currently, four astronauts from India are being trained in Russia. Are there any plans to involve representatives of other countries in training in Russia?
- Russia, or more specifically - Gagarin Cosmonaut Training Center (GCTC), is able to train candidates for spaceflight from any country. The only important point is that not every country has a strategy for the development of human spaceflights. India has taken that challenging and very worthy path of developing its own human spaceflight program, and that is why four Indian candidates for the Gaganyaan mission are currently training at GCTC. Moscow is providing New Delhi with the requested support in developing the Indian national human spaceflight program.
- Is the experience of the first UAE astronaut spaceflight considered to be a success? When can we expect the next astronaut of this country to fly to space? The next flight was earlier reported to be a full-fledged expedition to the ISS. Are such plans still in effect?
- Yes, the first Emirati astronaut Hazzaa Al Mansoori successfully accomplished his mission to the ISS. He and his stand-in Sultan Al Neyadi are now in fact national heroes in the UAE.
In general, the UAE's space ambitions deserve the highest praise. The country's leadership not only understands that the space industry can become an additional driver of growth for the national economy, but also clearly understands that this is a contribution to the future of the country, to the coming generations, i.e. they actively invest in educational projects related to space and engineering.
- What countries are currently negotiating a flight to the ISS?
- Roscosmos is in negotiation at the level of governments and agencies, involving us if necessary. I would consider it premature to reveal the "geography" of these negotiations before reaching a firm agreement.
(Translation by the Press Service of Glavkosmos)