Aviation Week: Russia to Boost Space Tourism Efforts Using Soyuz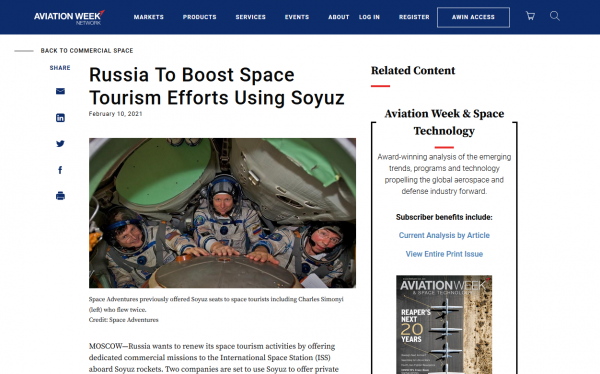 MOSCOW—Russia wants to renew its space tourism activities by offering dedicated commercial missions to the International Space Station (ISS) aboard Soyuz rockets.
Two companies are set to use Soyuz to offer private citizens the world's first opportunity to perform a spacewalk.
In the next three years, the Russian launch vehicles are expected to carry eight space tourists—the same number that Russia sent to space from 2001-2009. The first short-duration flight with two tourists to the ISS is planned for this December.
The tourist seats are being sold through two channels. An old-time partner, U.S.-based Space Adventures—which used to send tourists to the ISS aboard the Russian ships in the 2000s—contracted two seats for the December launch with Roscosmos. It has another contract with the Roscosmos subsidiary Energia Corp. for a 14-day mission with two tourists aboard Soyuz in 2023. Both missions will be fully commercial while space tourists will be accompanied by a professional cosmonaut.
Space Adventures' spokesperson confirmed to Aerospace DAILY that two clients are signed up for the December flight, without specifying when their names will be revealed. A source from Roscosmos said the candidates should start their pre-flight training in August or September.
In addition to the long-term cooperation with Space Adventures, Roscosmos is promoting space tourism services through Glavkosmos, its commercial division. Glavkosmos spokesman Evgenii Kolomeets confirmed plans to sell at least two Soyuz commercial missions to the ISS across 2022 and 2023 with a pair of tourists on each.
He added that Glavkosmos was considering the possibility of also providing seats for tourists on the Russian government's routine Soyuz missions to and from the ISS. Such missions were used for space tourists in the 2000s. On one hand, this looks like a possible solution now. Russia potentially has a vacant seat on each Soyuz after it stopped carrying NASA astronauts this year.
But a Roscosmos representative explained to Aerospace DAILY that the third place on future routine Soyuz missions was likely to be taken by Russian cosmonauts to intensify scientific activities at the station. The Russian crew for the 65th ISS mission to fly aboard Soyuz MS-18 in April includes three cosmonauts.
It's not clear how Glavkosmos and Space Adventures will compete with each other for space tourists.
"We don't aim to send tourists to the ISS at any cost, the main criterion is the crew safety at all stages of flight to the station and back to Earth," Glavkosmos CEO Dmitry Loskutov told Aerospace DAILY. He cited Russia's huge experience in crew pre-flight training and post-flight rehabilitation as well as the Soyuz MS reliability and proven efficiency of its emergency escape system as the main advantages of Glavkosmos' choice.
He did not reveal a price for a tourist seat on the Soyuz but mentioned it will be quite competitive when compared with a $55 million ticket for a private flight aboard the SpaceX Dragon spacecraft offered by Axiom Space. Its first eight-day mission to the ISS is planned for early 2022.
Space Adventures refused to disclose the financial side of its commercial missions.
Space Adventures promised that one of the participants of the 14-day mission in 2023 would have an opportunity to conduct a spacewalk outside the space station, becoming the first private citizen in history to experience open space.
The same chance is offered by Glavkosmos, which could potentially offer it earlier.
"If the medical board says the candidate's health allows them to make a flight and experience zero gravity then we can train a person for a spacewalk," Loskutov said.
Space Adventures and Roscosmos successfully sent seven space tourists from the U.S., UK and Canada on short-time flights to the ISS aboard Soyuz spacecraft from 2001 to 2009, with American businessman Charles Simonyi flying twice.