"Everything is for real": Russian film in space called a "bombshell" for the audience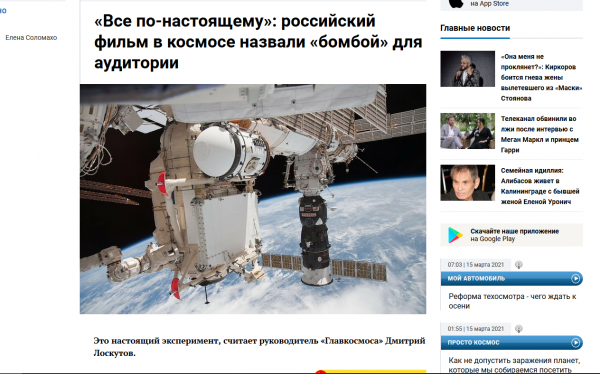 The idea of shooting a feature film in space is not new. In the late nineties, there was a project in which the actor Vladimir Steklov was preparing to fly to the Mir orbital station, but the flight never took place. Dmitry Loskutov, Director General of Glavkosmos JSC, speaks about this in the interview with Radio "Komsomolskaya Pravda" (radiokp.ru).
*the link to the full broadcast version*
The expert comments on the popular science project to be implemented by the First Channel and Roscosmos that involves shooting of the first feature film in space in 2021. A Russian young woman will get the lead role.
According to Dmitry Loskutov, the shooting will take place in very difficult conditions.
"Everything is real. It will be a bombshell for the audience. This will draw attention to the possibility of spaceflights by non-professional cosmonauts", he notes.
Loskutov says that the project is funded by the First Channel, and its general implementation is carried out as part of the federal space program.
"Everything we invest, we have earned ourselves. Despite the pandemic last year, we have decent financial indicators", the expert says.
Dmitry Loskutov notes that now the task is to reduce the period of training for the project participants.
"The American company Axiom Space is offering a 15-week training. Our goal is to make it four months. This is a real experiment, " Loskutov adds.
It was reported earlier that more than three thousand candidates took part in the casting for the lead role in the feature film with the working title "The Challenge".
(Translation by the Press Office of Glavkosmos, JSC)