Interfax-Military News Agency: The success of SpaceX proves the prospects of private companies in the space services market - CEO of Glavkomos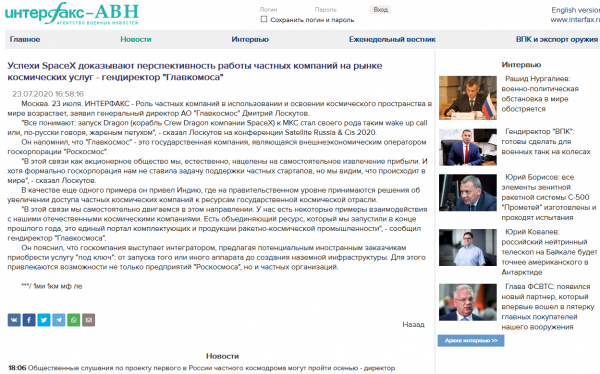 Moscow. July 23. INTERFAX - The role of private companies in the use and exploration of space is increasing in the world, said Dmitry Loskutov, Director General of Glavkosmos, JSC.
"Everyone understands that the launch of the Dragon (SpaceX Crew Dragon) to the ISS has become a kind of a wake up call," Loskutov said at the Satellite Russia & CIS 2020 conference.
He recalled that Glavkosmos is a state-owned company that is the foreign economic operator of the Roscosmos State Space Corporation.
"In this regard, as a joint-stock company, we are naturally aimed at extracting profit. Although the State Space Corporation formally has not set us the task of supporting private startups, we can see what is happening in the world," Loskutov said.
He set India as another example, where decisions are being made at the government level to increase the access of private space companies to the resources of the state-owned space industry.
"In this regard, we are moving independently in this direction. We have some examples of cooperation with our domestic space companies. There is a unifying resource that we launched at the end of last year, our Unified portal for products and components of the Russian rocket and space industry," said Glavkosmos CEO.
He explained that the state-owned company acts as an integrator, offering potential foreign customers to purchase a "turnkey" service: from launchung a particular spacecraft to building the ground infrastructure. To do this, they are attracting the capabilities not only of the Roscosmos enterprises, but of private organizations, too.
(Translation by the Press Office of Glavkosmos, JSC)