Interfax-Military News Agency: Glavkosmos treated the guests of its stand at the Dubai Airshow 2019 to "space food" for the first UAE astronaut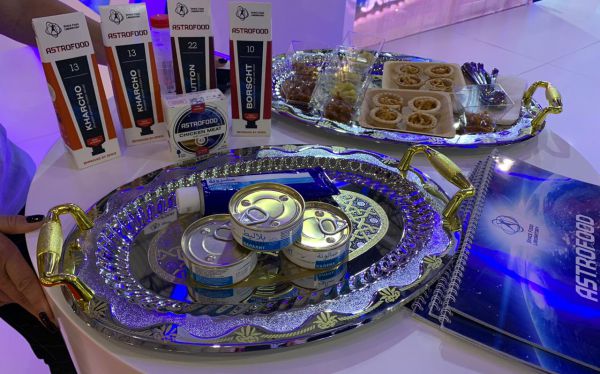 Moscow. November 20. INTERFAX - Participants of the international exhibition Dubai Airshow could taste the dishes that the first astronaut of the United Arab Emirates Hazzaa al Mansoori took with him to the spaceflight, the press service of Glavkosmos JSC (part of the State Corporation Roscosmos) told Interfax on Wednesday.
During the forum, Glavkosmos introduced a line of "space food" - food sets for cosmonauts.
"Guests and participants of the exhibition could taste the traditional cuisine of the UAE. It is that very "guest food set" that the first Emirati astronaut Hazzaa al Mansoori treated the crew of the International Space Station (ISS) to during his mission on the station," said Dmitry Loskutov, Glavkosmos Director General, quoted by the press service.
He noted that during the exhibition a number of meetings and negotiations on cooperation with foreign partners took place.
"We hope that the meetings and negotiations with our partners and customers, as well as with our future customers and potential new business partners at the Dubai Airshow, will evolve to new projects," Loskutov said.
The day before, he took part in a panel discussion on the global cooperation in space research, where he presented his vision of the prospects for international collaboration in space exploration.
The pavilion of Glavkosmos also hosted presentations of products and services of the Russian rocket and space industry enterprises participating in the exhibition.
The spaceflight of the UAE's first astronaut took place in the autumn and lasted about a week. Specially for him guest sets of space food on the basis of national cuisine were prepared. They included madrooba (the main ingredient is chicken), saloona (the main ingredient is roast lamb with vegetables) and balaleet (the main ingredient is vermicelli with eggs).
Dishes are packaged in aluminum cans (balaleet and saloona) and tubes (madrooba) and are ready for use immediately after opening the package.
Glavkosmos JSC is a subsidiary of the State Corporation Roscosmos engaged in promoting products of the Russian rocket and space industry to world markets and managing complex international projects.
(Translation by the Press Office of Glavkosmos, JSC)