TASS: Glavkosmos presented a space food line at the exhibition in Dubai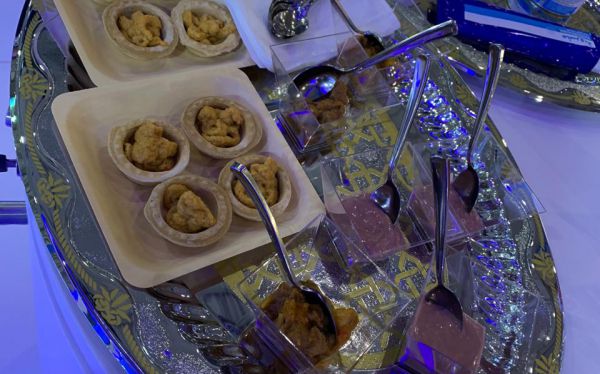 MOSCOW, November 20. /TASS/. Glavkosmos (part of Roscosmos) at the international aerospace exhibition Dubai Airshow 2019 in the UAE introduced food sets for cosmonauts, which included traditional Arabic dishes, informs the press release published on Wednesday on the website of Glavkosmos.
"Guests and participants of the exhibition could taste the traditional cuisine of the UAE. It is that very "guest food set" that the first Emirati astronaut Hazzaa al Mansoori treated the crew of the International Space Station (ISS) to during his mission on the station," said Dmitry Loskutov, Glavkosmos Director General, whose words are quoted in the press release.
An astronaut from the UAE delivered three Arabic dishes to the ISS: balaleet (sweet dish), saloona (meat with vegetables) and madrooba (chicken with vegetables).
Loskutov also expressed confidence that the series of meetings and negotiations held at the exhibition will find its implementation in the new projects of Glavkosmos. "We hope that the meetings and negotiations with our partners and customers, as well as with our future customers and potential new business partners at the Dubai Airshow, will evolve to new projects," he said.
On November 19, Glavkosmos CEO also took part in a panel discussion on global cooperation in space research, where he presented his vision of the prospects for international cooperation in space exploration. In addition, the pavilion of the Russian company hosted presentations of products and services of enterprises of the Russian rocket and space industry participating in the exhibition.
Dubai Airshow 2019 takes place from 17 to 21 November in Dubai (United Arab Emirates). Rosoboronexport is the organizer of the unified Russian exposition, the total area of which is more than 750 square meters. In addition to Rostec and Rosoboronexport, eight leading Russian holdings producing weapons and military equipment, including the United Aircraft Corporation, Russian Helicopters, the United Engine Corporation, scientific production association High Precision Systems, the Almaz-Antey Air and Space Defence Corporation, Shvabe Holding and others, represent their products.
(Translation by the Press Office of Glavkosmos, JSC)